Play Now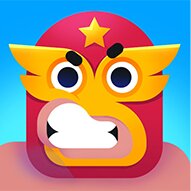 Trust your physical power to bring down opponents in Punch Bob! This is a game of pure physical power. You don't need any weapons whatsoever. Just believe in yourself and eliminate anyone standing in your way.
Punch Bob is a legend when it comes to fighting with bare hands. His glory days might be far gone but he has another chance to prove his legend once again. Now, observe the platforms through the levels and spot your opponents. There are three main game modes namely Punch Them!, Flaming Fists, and Bombs of Doom. Drag the cursor to set your aim and jump on top of your opponents on Punch Them. Once you complete all the ten levels in the first mode, you can unlock the second and third modes. You can respectively use the power of your fists and throw bombs at your enemies in these modes. Now, get ready for a long fighting session. Let's see if you can get back your powerful glory back!
Developer
Simplicity Games developed Punch Bob.
Release Date
September 26, 2022
Features
Colorful 2D graphics
Skins to unlock
3 game modes
Multiple levels
Controls
You can drag the cursor to aim.