Play Now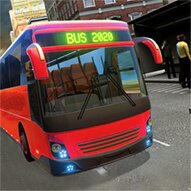 Explore the realistic bus driving mechanics with Real Bus Simulator 3D! Pick up passengers from bus stations, carry them safely to the next spot, and complete missions in heavy traffic! Earn money for your work and unlock new bus options to save energy and try new styles! Let's hop on!
This world gives you a garage full of buses and leaves the rest to your imagination! Start with your first vehicle and jump right into the missions or challenge levels! Each bus has a number of energies, and upon running out of fuel, you must wait for a while to refill, drive another bus, or watch a short ad to get an instant refill. The driver also has an energy limit; you can check your driver's energy from the top. You get daily rewards and two free lucky-draw tickets; these are also available at the left of the main menu screen. Choose between two modes; take quests to carry passengers between city stations or accept extreme challenges on race tracks decorated with dangerous obstacles! Collect gold coins between barriers and traps, get paid for completed levels, and spin the wheel for extra prizes! Unlock new buses to multiply your available energy and please your passengers!
If you like vehicle simulations, you can check out Police Car Simulator 2020 and keep the streets safe!
Developer
CarGames.Com developed Real Bus Simulator 3D.
Release Date
June 2, 2022
Features
Colorful 3D graphics
2 game modes
Tens of unlockable buses
Increasing challenge
Available on mobile devices
Controls
You can use "W, A, S, D" to play.