Play Now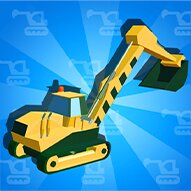 Real Excavator Simulator is where you get to show your driving and operating skills on construction sites! Learn to drive construction vehicles, operate them carefully, and complete your duties on an open map! Explore the open lands as you wish or follow the orders; this world allows you to do both!
As the name suggests, you start with an excavator, but your job quickly evolves into a much more complex one. Drive your heavy machines around and park them in the spotted positions carefully. Place one after another, dig the ground in required areas, and carry the soil to your goal. Pass levels to start and complete special projects. Control all the vehicles to coordinate every step by yourself. Pick up the treasure chests and pass levels to earn for your hard work, then watch short ads to double your rewards if you wish. You can buy new skins for your vehicles from the game shop after saving enough. Complete fifty levels of increasingly challenging work, get paid to add style to your job, and get better at it. Unlock all skins while advancing through levels and find the best style for your construction vehicles!
If you like completing missions and carrying loads with trucks, you can check out US Army Vehicle Transporter Truck and deliver war machines!
Developer
CarGames.Com developed Real Excavator Simulator.
Release Date
March 31, 2022
Features
Realistic driving experience
Colorful 3D graphics
Simple controls
Fun and continuous quests
Available on mobile devices
Controls
You can use "W, A, S, D" to move, the spacebar for brakes, and your mouse to load/unload.