Play Now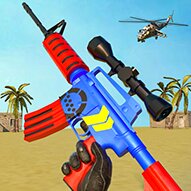 Eliminate all your enemies and complete your mission in Real Shooting FPS Strike! You are the greatest headhunter ever. Now, your boss wants you to complete a bunch of tasks for an important scheme. Get ready to take down your enemies one by one!
In this realistic game, you will find yourself in the vicious world of crime mobs. The realistic 3D graphics are here to enhance your gameplay experience, and you will simply feel like you're a part of this world. You have a total of 30 destinations where you must fight against your boss's enemies. He wants you to take down all those criminals one by one at each destination. You can buy new and more powerful guns with the money you earn from each mission. Also, don't forget to use the auto shot mode to freely rotate your character and better shoot your aims. Move with the WASD keys, fire with the left mouse, and jump with the space key. Now, get down to the dark world of criminals and see if you can clean them off the world map through all your destinations!
If you enjoyed this first-person shooting game, you should take a look at our collection of free and online shooting games, too!
Developer
Driving Games developed Real Shooting FPS Strike.
Release Date
November 15, 2021
Features
• 3D realistic graphics
• Guns to unlock
• First-person shooter game
• Many levels to pass
Controls
You can use the mouse of your computer to shoot and WASD keys to move.