Real Sports Flying Car 3D
Play Now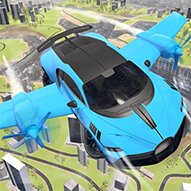 Unlock nine superb race cars, choose the coolest wings for them, and drive around a gigantic map with Real Sports Flying Car 3D! Accept quests from customers, complete them in the given time, and earn for your hard work! Turn your driving and flying skills into cash to add new cars to your collection, and fly overseas with them!
Welcome to the future our parents always dreamed of! We have luxurious flying cars, wing options, and loads of quests for you! You can take your time around the garage and check out your vehicle and wing options or jump right into the action and start getting calls! You must work hard to earn enough to buy your favorites from the eight other options in the garage, but you can also watch short ads to get your hands on them sooner. Jump into your car and start driving around the city. You will get calls from potential customers in no time. Accept and complete them in the given time to earn the mission money. You always have the freedom to decline these quests and keep driving freely. Discover the secret spots on the map, collect gold coins, and use them to upgrade your ride. Good luck!
If you like this adventurous driving/flying simulation, you can check out Flying Motorbike Driving Simulator and try your chance on two wheels!
Developer
Driving games developed Real Sports Flying Car 3D.
Release Date
July 6, 2022
Features
Good 3D graphics
Graphics quality and effects options
Fun quests and free driving modes
8 unlockable cars
Controls
Use "W, A, S, D" to move, "C" to lock/unlock the cursor, shift to use nitro, "F" to fly, "R" to reset the car, "I" for instructions, and Esc to quit.