Play Now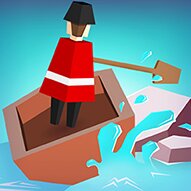 Set out on a relaxing river journey on your little boat with River Adventure! Move between huge rocks and water logs in zig-zags and collect valuable crystals! Unlock exclusively designed character skins for your boatman and sail through the current with style! Do you have the skills to break a new record?
Welcome to a pastel, fairy tale world sunset! In this fantasy world, your only job is to row your boat to your heart's desire! Forget about all the anxiety the daily life puts on you, and escape to a magical sunset on this small river vacation! Here, you get to wear any costume you want and become a new character on the water! Sail in zigs and zags, avoid hitting the obstacles, and try again to reach further! Set your own goals or follow the achievements page and complete these quests to unlock new skins. Change the way your boat moves by clicking once. Keep your distance from the shore while aiming at the shiny gems speeding at you. Changing your direction with last-second decisions mostly ends up in crashes, so prepare a route in your mind as soon as new obstacles appear on the horizon. Good luck!
If you enjoy this relaxing challenge, you can check out our Skill Games category to find more games like this!
Developer
SOFTGAMES – Mobile Entertainment Services GmbH developed River Adventure.
Release Date
June 2, 2022
Features
Nice, colorful graphics
Easy to play
Quests and achievements
Unlockable content
Available on mobile devices
Controls
You can use your mouse to play this game.