Play Now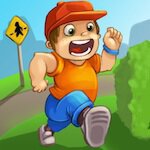 In Road Safety, you are responsible for the security of the citizens in this city! Obviously, some people failed the traffic lessons in the school! When the long and crowded driveways are in question, it is hard sometimes to cross to the other side. But you stepped up and volunteered for the safety of these people by making them walk at the correct time. How many people will you be able to help?
Main roads can be really scary time to time! But we are sure you will do your best to save the lives of these people even in the most difficult circumstances! In this fun skill game, your objective is to click or tap on each person at the safest time to make them pass to the other side of the roads. But as a second challenge, you are face to face with the time limitation! You have to move the walkers before your time is up. But no worries because you are not supposed to save all of them to pass the levels. You can check the left top of the screen to see the minimum number of people needed to be saved. However, the more walker you save, the more stars you get! Now, let's see how much you take others' lives seriously now!
Don't forget to check our colorful collection of free and online skill games to browse more fun titles like this game.
Developer
HypnoCat studio developed this game.
Features
2D colorful graphics
Simple controls
Multiple levels to pass
Entertaining and addictive gameplay
Controls
You can use your mouse to play this game.