Play Now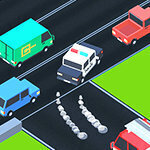 In Road Turn, you can get your hands on the traffic. Living in the city means you have to deal with traffic every day, but if everyone obeys the rules, then there's no need to be worried about being late to places. The resident drivers of the city need your help, so click on the play button and start playing now! Show them that with you on duty, even the traffic during the rush hour can be smooth!
Driving is fun until you get stuck in the traffic jam. Trying to join the main road from an intersection can be hard, but now that you're here the drivers don't have to worry about it. The main objective of this game is to pass each level by making the vehicle join the main road without making them crash. You can play this game with your mouse, so click on the play button to start. At the top of the screen, you can see your progress bar. It fills up with each point you earn. Click on the screen to make the vehicles join the main road, but be careful. If you cause an accident, you'll lose the level and have to start again. When you fill the bar, you can play the next level. Good luck!
Looking for more challenging games? Look no more as we've gathered many awesome titles in our collection of free puzzle games. Have fun playing!
Developer
BPTop developed Road Turn.
Release Date
November 21, 2019
Features
Colorful 2D graphics
Lots of levels to complete
Simple controls
Entertaining and addictive gameplay
Controls
You can use your mouse to play this game.