Play Now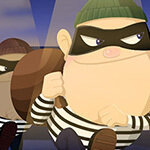 In Robbers in Town its time to loot. Our two mischievous thieves are on the loose and nothing can stop them anymore! They have escaped from the prison and steal everything that they can find. But they're not alone. We know that you want to help them! After all, you know what they say: All work and no play makes Jack a dull boy! Its time to get your hands a bit dirty just for this once!
Do you hear the sirens? The troublesome duo has done it again! They have escaped from the prison and its your job to control not just one but both robbers! Yeah, you've heard us right! Its your objective to help them steal loot bags. There are 16 levels, and you face with more challenges in each level. As the game progresses, you start to unlock new themes like desert and mountains. Jump over difficult terrains and try to avoid contact with anything that you see on the way to continue the rest of your journey! And don't forget to collect loot bags. Remember, that's the whole reason for this journey! Press the right mouse button to make the right robber jump and the left mouse button to make the left robber jump. You have to concentrate on the game and think fast! After all, their fate and wealth depend on you!
If you want to test your skills in different games, be sure to check our collection of online free skill games by clicking and here to see how good you are!
Release Date
December, 2017.
Features
Two characters to control
16 levels to complete
Intuitive controls
Fun gameplay
Controls
Use the left arrow key to control the left robber and the right for the right robber. You can also use the left and right mouse buttons.