Play Now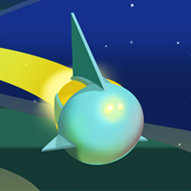 In Rocket Road, a colorful adventure full of fun challenges is waiting for you! Take your space rocket to the galaxy full of neon colors in this fun skill game. Compared to others, these space rockets have a specific road to go. But this road is full of various obstacles and orbs of different colors. As the pilot of these great rockets, will you be able to complete all the roads and finish the game?
An endless void can be a little bit scary. But, with the most qualified and last version of space rockets, no need for any fear! Your objective in this fun hypercasual game is to slide the rocket with your arrow keys and pass through the orbs. The key point of the game is collecting only the orbs of the same color as your space rocket's color. During the game, you pass some platforms with certain colors. After passing each platform, the rocket takes the color of that platform. Use the arrows or your mouse to direct the rocket and collect as many orbs as you can. As you progress in the game, the speed will be increasing too. Use your earnings to unlock other rocket options. If you fail, you continue with the last road you were passing. Good luck and be careful!
If you want to add more color to your life after this amazing game, then be sure to check Hop Ballz 3D.
Developer
Play.works developed Rocket Road.
Release Date
January 28, 2020
Features
3D neon graphics
Endless roads of adventure
Multiple rocket options to unlock
Entertaining and addictive gameplay
Controls
Left and right arrow keys to move the rocket around. Or, you can simply play with your mouse.