Play Now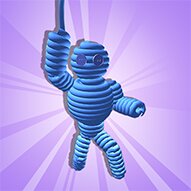 Rope Man has done enough for people, now it is time for us to return the favor with Man with Rope Man Rush 3D! This guy eats, breathes, and thinks ropes, so it's not wrong to say that his fuel is rope. Well, let's help him feed on some!
This tired and fallen hero does not have the energy to focus on the right color and dodge obstacles, so this is where we step in and direct him on this extraordinary track! Hold and swipe him right and left to collect the right-colored rope pieces and fill the bar to your left. Passing through colorful portals changes his color, so you should be quick to adapt to the new circumstances and start picking up the right options. Touching other colors cuts on his height until he disappears completely. Keep Rope Man alive, fill his bar, and reach the cannon with a full score to multiply it by up to twenty-eight! Earn precious gems by completing stages with high scores, and double them by watching short ads! Sign in daily to earn extra prizes! Feed your hero enough and witness how he uses the power of strings to smash brick walls down!
If you like this hilarious hypercasual masterpiece, you can check out Join Scroll Run and cross obstacles with the power of crowds!
Developer
YAD.Com developed Rope Man Rush 3D.
Release Date
May 9, 2022
Features
Colorful 3D graphics
Funny theme
Addictive gameplay
Available on mobile devices
Controls
You can use your mouse to play.