Play Now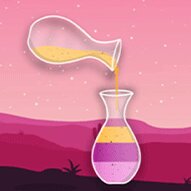 Sand Sort Puzzle offers you a satisfying brain-exercising experience in the calming nature. Feel the soft liquidity of colored sand pouring from one cup to another under the breeze and dancing clouds. Get rewarded with blooming flowers after every filled cup. Do not leave the rewarding part to flowers; come claim gold from your victories now!
You get several cups filled with mixed-colored sand. Of course, they are not blended, just standing heterogeneously leveled on one another. You need the top colors of both vases to be matching, or the second vase to be empty to be able to pour sand from one vase to another. This rule requires foresight and calculation beforehand, so plan your moves before your first step, or you might have to start over. Collect the same colored sand in one cup, and you can see the blossoming flowers over them. You earn gold for every victory, and with that gold, you can unlock different flowers and background scenes from the shop. Changing the scenery from a warm beach to snowy mountains can give you hope against the difficulty that rises with each level. You can watch short ads to earn extra gold and unlock even more flowers and backgrounds!
If you like sorting puzzles, you can check out Water Flow and control liquids to sort them according to their colors with different rules!
Developer
2Play developed Sand Sort Puzzle.
Release Date
January 5, 2022
Features
Relaxing backgrounds
Cute theme
Rewarding and addictive gameplay
Easy controls
Available on mobile devices
Controls
You can use your mouse to play this game.