Play Now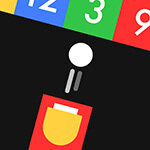 In Shoot Up, prepare yourself to unleash everything you have and break as many blocks as you can! We have the perfect game for you to test your spatial awareness, reflexes, and speed. If you trust your hand quickness and think you can concentrate hard enough, let's begin now!
Are you in the mood to destroy everything that comes your way? Say no more! You've come to the perfect place. You have the perfect chance to unleash all your anger in this game! Your objective is to get rid of the obstacles that are standing in your way! Slide the cannon and fire up a lot of balls to break the blocks. Try to break as many of them as you can to get more points. The blocks you break have numbers on them. If there's a 2 on the block that means that you have to shoot it twice to break it. With the points you earn, you can buy upgrades. These upgrades will allow you to increase your shooting speed and shooting power! When you level up these stats, the numbers on the blocks will start to get bigger. That will bring more challenges to the game, so you'll have to be careful! If you touch a block, you'll have to start all over again! You can also get power-ups while you're playing. They'll allow you to shoot faster, more, and bigger cannonballs. Try to outscore yourself in this challenging game. How long can you keep it up?
If you want to test your reflexes and speed then you should check another one of our skill games, Beat Line. Enjoy!
Release Date
March, 2018.
Features
Fast-paced gameplay
Intuitive controls
Nice graphics
Upgrades to buy
Controls
Use your left mouse button to play this game.