Play Now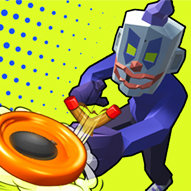 In Slingshot, your hand speed is everything! To beat your opponent, you need to move quickly and get all the discs to the opposite side! The fastest one wins the game! If you are ready for the tussle, start the game!
You start Slingshot with 5 discs. The characters that you pick give you different hit rates. With the disk alternative you would like, you can choose fast or slow. There are 6 different characters and 9 different discs in the Slingshot game. To assist you in the game, each disk and character offers functionality. You can also assign the character a name in the main menu. You aim to send all the disks in your region to the opposite side. You can play the game against artificial intelligence as 1 player or you can play as two, three, or four players. You can play with your friends in multiplayer mode. Each player has a different attack button. You can also customize the difficulty of the game as easy, medium, or hard. To win the disc war, you must finish all the discs in your area or move the disc as far as possible within the time limit. If you are ready, choose your player and start the game! Have fun!
If you want to try another multiplayer game similar to play with your friends, then be sure to check Pixel Combat Multiplayer by clicking here.
Developer
hitgames.org developed Slingshot.
Release Date
June 23, 2020
Features
3D graphics
Online multiplayer game
Intuitive gameplay
Addictive sports game
Controls
Player 1: Mouse Left Click or W, Player 2: G, Player 3: K, Player 4: P