Play Now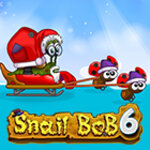 In Snail Bob 6: Winter Story, Bob's grandpa was kidnapped and Christmas is ruined. He might be a bit skittish, but Bob is determined to save his grandfather. Featuring winter-themed and icy levels full of new and amazing obstacles and enemies, join the adventurous snail in this sixth game of the popular series! Can you show those bad guys that they've messed with the wrong snail family?
A rescue mission is not an easy thing to accomplish, but Bob is happy to have you by his side. The objective of this game is similar to the other titles in the series. You join Bob on his journey through multiple levels and try to complete each one of them without getting stuck or killed. Each level is filled with various puzzles and dangers, so you should be careful. You can click on the different tools on each level to clear the way and get rid of the dangers. Pull levers, press buttons, and wish for the best! Unlock doors and activate mechanisms to move platforms around to make sure Bob can reach the end of the level in safety. You should also keep an eye out for hidden stars in each level. You can find three of these on each level, and play mini-games! Good luck!
Join Bob on his next journey in the seventh game of the series, Snail Bob 7. Enjoy!
Developer
Hunter Hamster Studios developed Snail Bob 6: Winter Story.
Release Date
April 2018
Features
25 different levelt to complete
Colorful 2D graphics
Entertaining gameplay
Can unlock 4 mini-games
Controls
Use your mouse to interact with the objects in the world. Press 1 to change the direction of the Snail Bob, press 2 to speed up and press space bar to make him stop.