Play Now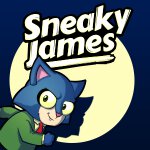 Sneaky James is the cutest cat you can imagine but he's got only one flaw! He just can't stop stealing! And this time he means to steal the golden statue but he can't go alone. Can you help him get ready for this heist? Wear your mask and turn off the lights. Sneaky James is on a mission!
The time has come! James plans on stealing the golden statue and he needs a cunning person, a problem-solver with him so that everything can go according to plan. Do you think you are qualified for this position? If so, let's go! Your objective is to break into a place to snatch the golden statue without getting caught by the dog police. Sounds scary? Don't worry! James is the most skillful thief and he takes his job seriously! The dog police are vicious but they have one weakness. They can't see in the dark! Purrfect, right? You have to remain unseen or James' career will be over! You need to get to the statue and take the clue inside it. The picture you find inside is part of a map and James wants it desperately! Turn off the light or hide in the trash. Did the police turn on the lights? Oh no, busted! Be paw-sitive and start over again! Play the game with your mouse and complete each fun level.
Check our collection of free and online skill games to play more pawsome games like this one!
Features
Multiple levels to complete
A really cute cat and dogs
Colorful graphics
Entertaining gameplay
Controls
You can play this game with your mouse.