Play Now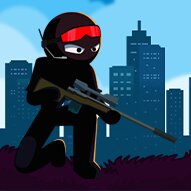 In Sniper Trigger Revenge, you need to help the little stickman who needs your help to aim and shoot the little criminals who escaped from prison and refuse to return! They are spreading evil, and you need to target them for the welfare of society! They are spreading evil, and you need to target them for the welfare of society! Will you be able to handle this task and complete the missions? Good luck!
The bad guys may have escaped from prison, but here is a stickman who will sacrifice his life to protect his people! And it's you! Your superiors have given you a mission, your mission is to find all these bad guys and destroy them! All you need is your mouse and your sharp eyes to eliminate them in all 15 levels! There are several targets at each level that you must eliminate. To fire, hold down the left mouse button and release it. There are times when you must destroy wooden boxes in order to fire down your target. Shooting at the stars will allow you to gather them and complete each level with three stars. You'll earn coins at the end of each level that you may spend to unlock new guns. In the upper left corner of the screen, you may check your ammunition. Make sure the captives aren't injured. Good luck playing!
If you liked Sniper Trigger Revenge, to check our collection of free and online shooting games, click here!
Developer
kiz10.com developed Sniper Trigger Revenge.
Release Date
July 23, 2021
Features
Nice 2D graphics
Many levels to complete
New weapons to unlock
Fun and addictive gameplay
Controls
You can use your mouse to aim and shoot or touch the screen to aim and release to shoot.