Play Now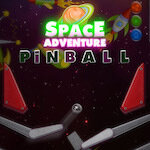 In Space Adventure Pinball, a classic legend of arcade games, pinball is waiting for you with a more exciting space theme! What you need to play this game is to have good reflexes combined with eye and hand coordination. Get ready to sit in front of your computer for hours on this adventure that will bring the 90s' vibes to your screen. Now, let the game begin!
Starting from a real game box in some entertainment places to our screens, the enjoyment of this fun skill game does not seem like it will ever end! The objective of the game is to do as many points as possible. To do so, you need to hit the ball with the flippers and make it touch as many places as it can before your balls run out. Control the flippers with the left and right arrows. Launch the ball in the first place by pressing the down arrow. You have three balls to use for each round. If the ball drops into the hole situated just in between the two flippers at the bottom of the screen, you lose that ball. If you lose all your 3 chances, your score will be reset, and you will have to restart the game. Check your points and remaining balls at the left top of the screen. Good luck!
You can check our collection of free and online skill games to browse more fun titles like this game.
Developer
Code This Lab developed this game.
Release Date
May 2018
Features
3D colorful graphics
Realistic background
Intuitive controls
Entertaining and addictive gameplay
Controls
The left and right arrows to control the flippers. The down arrow to launch the ball.