Play Now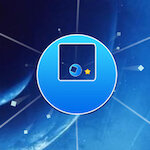 With Space Tunnel, be ready for a fantastic space adventure while testing your coordination skills and reflexes! Flying through the stars in a big black vortex tunnel is one thing but the real challenge is passing through the barriers with different shapes. You can be the astronaut that the universe needs right now. So get into the spaceship and start saving the planet already!
During your saving the planet mission, you have made one mistake that leading you into this huge space tunnel. You have to get out of there as soon as possible but there are many barriers with different shapes on your way. The objective of this futuristic arcade game is to pass through the barriers and increase your scores. You can control the spaceship by swiping your mouse. To start the game, click on the play button and it will direct you to the normal mode to begin. You should try to collect as many stars as possible while avoiding barriers. From the main menu, you can check your achievements gained through your combos and the stars you have collected during the game. As you progress, the speed of the travel will be increasing. So, you need to hold tight on your reflexes! If you are ready, let the adventure begin!
Be sure to check our collection of free and online skill games by clicking here to browse more fun titles like this game.
Release Date
July 2018
Features
3D colorful graphics
Easy controls
12 different achievements to gain
Obstacle-avoiding gameplay with space theme
Controls
You can use your mouse to play this game.