Play Now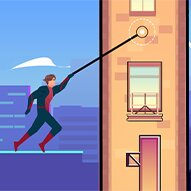 Hold onto your web and swing between the buildings like a walk in the park with Spider Swing Manhattan! Use your super-human powers to break the rules of physics and make fun of death!
Jump between the highest buildings of Manhattan, dodge the dangers flying at you at top speed, and break the highest swinging records of your superhero career! Being a superhero has its consequences, but we are not interested in them! Here in this world, you can take the best parts of having some extra powers and throw the rest without worries! Use your spider web with no rush; the bad guys can wait! This is a smooth dance between the highest buildings of your city. Ignore the curious eyes watching you from the windows and unleash your most fabulous moves! Throw a new string at each building and swap them with the previous ones. You can always take another shot to regain your balance or get some space. Use the marked spots to hold on, and avoid hitting people, AC fans, and ad sideboards. Forget about all the responsibilities and enjoy your great powers freely! Watch a short ad to revive at the point, or try again and aim higher!
If you like this addictive challenge, you can check out our other Skill Games and find more games like this!
Developer
MarketJS developed Spider Swing Manhattan.
Release Date
August 4, 2022
Features
Colorful 2D graphics
Fun characters
Addictive and fun gameplay
Improving skills and reflexes
Available on mobile
Controls
You can use your mouse to play.