Play Now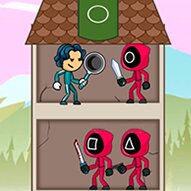 The long-awaited revenge has arrived with Squad Tower! The cruel guards of Squid Challenge are right ahead of you, waiting desperately for the destruction you will bring upon them. Listen to your heart beating for vengeance and draw your weapon; the time has finally come!
A pan is as dangerous as an automatic rifle in the hands of this furious guy. The only thing that could be deadlier is combining these superior physical attributes with math skills as powerful as his muscles! Direct your buddy to the guards with numbers lower than his and watch him defeat them and devour their powers. Plan carefully and face powerful bosses. Enjoy your changing weapons at every level and counter bullets with a frying pan! Don't hesitate to change rooms to duel with enemies weaker than you. Get boosts that add to or multiply your strength points in the right order and approach the boss with enough scores to beat him. Break piggy banks and open safes to earn gold coins and unlock eight exclusive skins for your stick hero. Fight different enemies and pass forty challenging levels to complete your revenge plan!
If you like planning strategic moves in the battleground, you can check out Funny Battle Simulator and try out every combination possible in war!
Developer
magnificstudios developed Squad Tower.
Release Date
March 28, 2022
Features
Colorful 2D graphics
Improving math and logic skills
Easy to play
Unlockable content
Available on the mobile devices
Controls
Use your mouse to hold and move your hero.