Squid Squad Mission Revenge
Play Now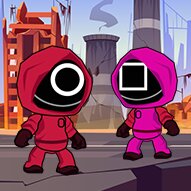 It is time to take revenge with Squid Squad Mission Revenge! You have been on quite an adventure, and now it is time to set yourself free of the anger you have. The only way is to take revenge, so get ready for vengeance and eliminate all your enemies!
These dangerous guards are all around, and you have had enough of them. Now, get your guns blazing to eliminate them. Only if you can clear them all, you can be free of problems. You will have twenty levels where you will have a variety of guns to use. You will have more guns unlocked with each level. You should be warned, though. You will have a limited number of bullets in each gun you have for that level. When you are out of bullets, you will have to start the level from the beginning. You have no other limitations, obstacles, or enemies attacking you in this game. Just know how many bullets it takes for your respective enemies to be taken down, and you're good to go! Let's see if you can complete all the levels now!
If you enjoyed playing this shooting game, you should take a look at our collection of online and free shooting games.
Developer
TapTapking.com developed Squid Squad Mission Revenge.
Release Date
November 19, 2021
Features
• 2D colorful graphics
• Guns to unlock
• Many levels to complete
• Intuitive controls
Controls
You can use the mouse of your computer to aim and shoot.