Play Now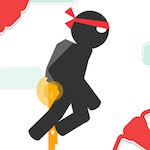 In Stickjet Challenge, we hope you have a strong back and aren't afraid of the heights because you'll be using a powerful jetpack. Walking or running is way too boring when you can fly. The fragile-looking stick-figured character of this game is brave, but he still needs your help. Join him through various challenging levels, and help him reach the flags in each of them.
Are you ready to take off? Sadly, you can't explore the endless skies in this game, but this doesn't mean you can't have fun. The objective of this game is to complete each level by reaching the final flag through various obstacles. You can play the game with your mouse, so click on the play button on the main menu to start. The game features 48 different levels. Only the first one is available in the beginning but you can unlock the rest as you play. When in a level, click on the screen to make your character start moving. He'll run by himself, but you have to control him. Click and hold on the screen to use the jetpack, and release the mouse button to fall. Green platforms are safe to walk on. Touching red obstacles or the red edges of the level will kill you. Try to reach the checkpoint flags, so you can start there when you die. Good luck!
If you enjoy games like this one, then you're lucky! We have a full collection of them! Go and check our page of free skill games. Enjoy!
Developer
QKY Game Studio developed Stickjet Challenge.
Release Date
March 21, 2019
Features
Colorful 2D graphics
Intuitive controls
48 different levels to complete
Entertaining and addictive gamplay
Controls
You can use your mouse to play this game.