Play Now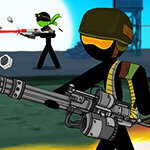 In Stickman Maverick, you're surrounded by bad guys, and your only chance of survival is defending yourself. With so many weapons and your courage at your side, can you teach these baddies that they've picked the wrong person to mess with? Get into position, and stop your enemies before they can even reach you!
The best way to solve a situation is done by talking, but you can't do anything if they're refusing to listen. Grab your guns, and get ready! Your objective in this game is to complete each by completing the task without getting killed. To start the game, click on the play button. Next, pick an area. There are many levels to play but you have to unlock them first. Each level has a different task to complete. When you click on them, you can see your mission and the rewards you'll get in the end. Click on the play button to continue to the shop. Here you can buy many different weapons, gadgets, and other items. They're locked, so you have to buy them with the coins you earn. When ready, click on the play button once again and try your best to complete your mission! Good luck!
Why don't you join this strong character in his other adventure, Stickman Fighter: Epic Battles. Have fun playing!
Developer
Playtouch developed Stickman Maverick.
Release Date
January 7, 2020
Features
Colorful 2D graphics
Daily rewards
Multiple challenging levels to complete
Intuitive controls
Entertaining gameplay
20 different weapons that you can use
Controls
Use the arrow keys to move around, and press the SPACE BAR to shoot.