Play Now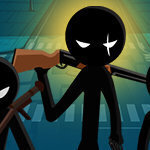 In Stickman Team Force, eliminate your stickmen enemies with your special ops team! The city is under attack by an evil squad, and it is time to build peace! You and you alone can be that strong to be the only person controlling this team of 3 warriors. Now, get your force together and be ready to reconquer the streets from these villains!
With all the streets of the city flooded by bullies, ensuring security is now a must. The objective of this fun action game is to beat all the enemy stickmen and unlock the new levels. You have 18 different levels with increasing challenges to complete. When you start the game, you are expected to control all 3 fighters of your team. You will be controlling only one when the game starts, and you can change your control to another fighter by pressing the "C" key. You can walk around with the arrows. When you approach the enemy, you can use the "Z" key to attack or the "X" key to use your special power. Check your fighters remaining lives at the left top of the screen. At the end of each level, you gain coins and use your earnings to upgrade your team's life, weapon, and power stats. If you are ready, let the fight begin!
To take action against more evil forces, be sure to check our collection of free and online action games by clicking here and browse more fun titles like this game.
Developer
kiz10 & TapTap developed Stickman Team Force.
Release Date
January 9, 2020
Features
18 fights to win
3 stats to upgrade
3 different fighters to control
Fun and energic gameplay
Controls
Use the arrows or WASD keys to move. Click or "Z" key to attack. The "C" key or "1,2,3" to change character. The SPACE bar or "X" key for special powers.