Play Now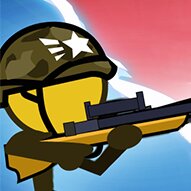 With Stickman Warfield, get ready to face your bloodthirst enemies! This war is no small. The entire power units will be attending to draw the lines of their countries once again! Send your army to the base, get as many weapons as you can and show them who the real winner is. If you are ready for the attacks, let this merciless war begins!
It is time to protect your country at any cost. You are the commander of a big army and must organize your soldiers in order to win the war. It is not gonna be easy but with the correct strategies, it is not impossible. Your objective is to defeat your enemies by destroying their whole army before they destroy yours. To call your troops into battle, you can click on the weapon symbols at the bottom of the screen. When your soldiers get into the trenches, press on the SPACE BAR so that they will start shooting. With each kill, you will earn coins. Use your earnings to upgrade the stats of your soldiers. Complete the levels one by one by reaching the flag. Le the war begins now! Good luck and have fun playing!
These stick people need your help once again! If you want to help them win another thrilling battle again, then be sure to check Stickman Armed Assassin Cold Space by clicking here.
Developer
kiz10.com developed Stickman Warfield.
Release Date
July 08, 2021
Features
2D colorful graphics
Upgrades and new weapons to buy
Many levels to complete
Intuitive controls
Controls
You can use your mouse to call in the troops. Press the space bar to send them into battle.