Play Now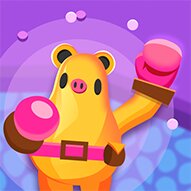 Master your wrestling skills with Sumo.io! Match with other players and show off your sumo wrestling skills! Run around the arena, trick others into jumping off, and push them if they resist! Unlock the cutest skins and accessories for your dinosaur friend, and customize him for the next matches!
These wrestlers are not the classic sumos you remember; they are cute prehistoric predators! Follow your dinosaur into the platform and start your first match! You can keep running, waiting for the others to eliminate each other, but each kill you get earns you extra gold and score points. There are two game modes available: classic and epic. Epic games are ranked matches you can play to advance through leagues, while the classical matches are awesome for some quick fun. You can earn gold in both games. Get used to the controls and start playing more aggressively. This will get you kill points and coins. Also, your character grows bigger with each enemy you defeat, which makes you stronger against enemy attacks. You can stop by the game shop between matches and check out the skin options. Use gold to unlock new clothes and accessories to create your unique hero. Have fun!
If you like this game, you can check out our other .io Games and find more games like this!
Developer
DRA developed Sumo.io.
Release Date
August 23, 2022
Features
3D graphics
Simple controls
Available on mobile
2 game modes
Various skins and accessories
Controls
Use your mouse to move around the arena and click to jump.