Play Now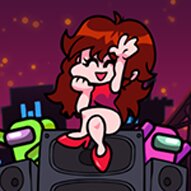 In Super Friday Night Funki, thank God it's Friday! Since tomorrow there is no work or school, it's time to go out and have fun with your friends. If many options come to your mind and you can't pick from one of them, we have a suggestion. How about a karaoke party? Turn the volume up everyone and give your ears a feast of good music!
The stage is full of talented people who were born to sing. Come, come, don't be shy! Step onto the stage and let's see what you got! This may be a karaoke party, but your singing talent isn't going to be what is tested tonight. Your hand-eye coordination better be good because this skill game has controls similar to Guitar Hero. There are many levels you need to complete, so let's start now! In each level, arrow keys will appear on the screen. You need to wait for the colored arrow keys to reach the ones at top of the screen and press on the keys at the perfect time. If you miss or press the button early, the bar at the bottom of the screen will turn red. If it turns completely red, you'll need to try again. As you proceed in the game, the game speed will increase, and your reflexes will be tested even more! Have fun playing!
If you trust your musical talents, play Beat Line by clicking here! Enjoy!
Developer
kiz10.com developed Super Friday Night Funki.
Release Date
June 24, 2021
Features
Many levels to play
Fun and challenging gameplay
Nice upbeat music
Colorful 2D graphics
Controls
You can use the arrow keys to play this game.