Play Now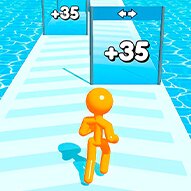 Discover new ways to get taller with Tallman Run! Walk through magical portals and add to your height and weight! Overcome challenging obstacles, face evil guards, and keep your height at maximum to collect your bonus diamonds! Finish levels tall enough to reach the end of the road and defeat a giant boss with one well-aimed kick to the face!
Your size has nothing to do with sleep or calcium in this world; here, people walk through portals to change sizes and shapes! The key is to choose the right portals and avoid the others. Red portals can reduce your height and weight while the blue ones increase them. But what to do when you cannot decide between two same-colored portals? That's simple. You do the math and walk through the one that adds to your size the most! Also, watch out for barriers and enemies! Interacting with any obstacles also costs you some muscles. Pick up the green signs and avoid the red ones to keep growing. Collect all the diamonds on your way and multiply them by watching a short ad. Discover the surprise team fight levels and defeat all enemies! Unlock funny hats for your character and try them all!
If you like this funny game, you can check out Freaky Monster Rush and become your enemies' worst nightmare!
Developer
2Play developed Tallman Run.
Release Date
August 15, 2022
Features
Nice 3D graphics
Relaxing pastel colors
Unlockable skins
Addictive levels
Available on mobile
Controls
You can use your mouse to hold and move your character.