Play Now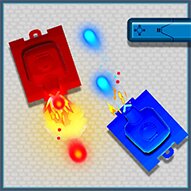 Join addictive tank matches in changing arenas with Tank Duel 3D! Jump into a world where everything is handled between heavy war machines! Speed around the arena, dodge enemy attacks, and try to stop them from getting boosters! Pick up surprise boosting effects and blow up your enemy's tank with guided missiles and ice attacks!
Organize quick death matches where both sides have tanks! Invite a friend and choose the two-player mode or get challenged by the game bots. Start by choosing the number of rounds you want the game to have. The winner will be announced by the end of these rounds. Now you can decide between 1P and 2P to choose who you want to be challenged by. You can invite a friend over and play against each other by using the same keyboard, or keep all the action to yourself and compete with the bot. You can check the controls once more before making a move. Start moving around to pick up boosters lying on the ground. These little gifts grant you a shield effect for a few seconds, refill your health bar, and give you special attacks. Watch out for turrets that will try to shoot both sides, and explode your enemy before they kill you!
If you are into battle machines, you can check out Blob Tank Wars and compete with your friends in another exciting war of tanks!
Developer
RHM Interactive developed Tank Duel 3D.
Release Date
May 27, 2022
Features
Nice graphics
Arcade theme
1P and 2P options
Addictive quick matches
Controls
Player 1 can use the arrow keys to move and the spacebar to shoot, while Player 2 can use "W, A, S, D" to move and "Q" to shoot.