Play Now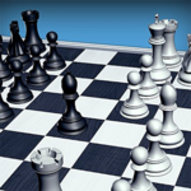 In Real Chess, the world of 64 squares is waiting for you! You should analyze the board and play wisely with the chess pieces to beat your opponent! Will you be able to win all the rounds? Let's start to play and see if you can! Have fun!
Chess isn't always competitive. Chess can also be beautiful. But this time, it can be quite competitive because you can play this game against one of your ambitious friends! All you need is your mouse to play this game. So, click on the play button and choose a player option. You can choose a single player if you like to play alone the games. Or you can invite a friend of yours if you are the type of person who has a lot of friends. Your objective in this game is the same as in the real-life chess games, you should capture your opponent's King while keeping your own safe and guarded. You will see possible moves by clicking on the pink-colored pawn. Do you know what is the best part of this game? You can check the move names on the left side of the screen to improve your knowledge about the professional side of chess! To move the pieces, click on the pawn and drag it to the direction you want it to go. It sounds simple, but you really need to think over it before making any moves! Good luck!
If you want to play more chess games, and try another one similar to Real Chess, then be sure to check Casual Chess, too.
Developer
TrendyGames developed Real Chess.
Release Date
March 5, 2020
Features
2D graphics
Single and 2 player options
Easy controls
Intuitive gameplay
Controls
You can use your mouse to play this game.