Play Now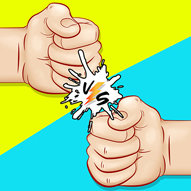 In RPS Exclusive, it's time to put an end to all disputes! You have faced a much more exciting game classic rock paper scissors game! You can play against a friend or the computer. Are you ready to end all the conflicts? Good luck!
If you have ever needed help making a small decision like who will drive the car or who will wash the dishes, you are probably more than familiar with the game of rock, paper, scissors. Did you know that it is big in Japan? As it's known in Japan, janken was big in Japan before anybody in the West had ever heard of it. The world has changed a lot since then. We can now play this game even online! So, your objective in this game is to beat your opponent, they will lose when the life bar reaches zero. Before starting the game, you should choose if you will play against a friend, or the computer. In both, you can use your WASD keys or arrow keys. Don't look at your friend's move! There is no room for cheating! Are you ready for exciting background music and great effects? It will definitely increase your heart rhythm! Good luck! It's time to solve all the disagreements!
If you need to play more games like this one, take the different challenges in our collection of free and online skill games.
Developer
Happy Kid Games developed RPS Exclusive.
Release Date
November 20, 2020
Features
2 player game
Competitive gameplay
Easy controls
Intuitive gameplay
Controls
You can use your WASD or arrow keys to play this game.