Play Now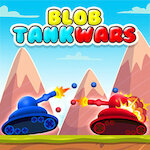 In Blob Tank Wars, it's time to show your enemies the consequences of attacking you! Jump into your bouncy-looking but the strong tank, declare war on your enemies, and try your best to become victorious! Are you ready to tackle all the obstacles and challenges on your way?
As one of the best soldiers your nation offers, everyone relies on you to win this war. Start the engines and let your tank roar as you enter the battlefield. This game supports both solo and 2-player gameplay. Pick one from the main menu to start the game. Your objective is to win each battle by being the first player to score 5 points. Your tank will move back and forth on its own. All you have to do is to click on the screen at the correct times to ensure a bullet finds its way to your enemy. Trees in the middle act as obstacles and bullets will bounce off of them. Hitting an enemy gives you a point, and you can track your score from the top of the screen. Sometimes different power-ups will spawn. To collect them, your bullet must hit them. Good luck, soldier!
If you enjoy playing with tanks and other war machines, then go ahead and try our other game Awesome Tanks 2. Enjoy!
Developer
RHM Interactive developed Blob Tank Wars.
Release Date
January 17, 2019
Features
Colorful 2D graphics
Solo and 2-player game mode options
Competitive gameplay
Intuitive controls
Controls
Press the D key to fire your cannon as the player one. Use the left arrow key to fire as the player 2.