Play Now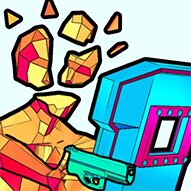 In Time Shooter 3: SWAT time only moves when you move. You work with the SWAT and save hostages from terrorists. What these bad guys do not know is your ability to use time extraordinarily. You can bend it and catch your enemies by surprise in the most unexpected ways. Can you use this skill efficiently and take the matters into your own hands with no gear?
It all starts when you find yourself locked up in a building with terrorists, and the worst part is that they stole your weapons and took innocent people hostages. Luckily they have no idea about your abilities about time; it moves with you. You can move slowly and calculate your next move as your enemies try to take another step toward you. Pick up a gun, shoot your enemies, and stop moving when you are out of ammo. You can also throw empty weapons on your enemies to take them down. Break doors and set the innocent civil free. Use the instruments you are given wisely and in the right order to pass the levels. Do not aim at armors and shoot the terrorists in their weakest spots. Use your powers to be a hero!
If you like this exciting game, you can check out our Action Games category and find more games that will keep you on your toes!
Developer
GoGoMan developed Time Shooter 3: SWAT.
Release Date
April 7, 2022
Features
Colorful 3D graphics
Unique character design
Improving aiming skills
Fun and addictive gameplay
Controls
You can use the mouse to pick up and throw weapons and shoot, "W, A, S, D" to move, and "F" to pick up items.