Play Now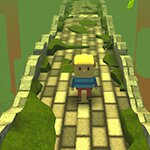 In Tomb Runner, it's time to see if you're really as quick as a flash! There's nothing more exciting than an adventure. But with every adventure comes the danger of the unknown. Adventure comes with no guarantees but nothing can stop you! In this game, to get where you're going, you'll have to make a run for it! Do you think you'll be able to succeed?
Do you want to go on a treasure hunt and come back with all the riches in the world? It definitely sounds good to us! Our heroes have decided to travel to perilous lands to find a treasure. Your objective is to help them avoid the dangers and escape from the tomb. In this endless track, countless traps await you. Spiked barrels, flames, and turns that are sharper than Henry Cavill's jawline. You need to avoid them by using the arrow keys. Sometimes, you'll see intersections on the path that will allow you to choose between different roads. You'll also find coins and power-ups throughout the path. You can use the coins to buy new characters. This game is all about the right timing. If you don't avoid obstacles or turn at the right time... Well, it's been a privilege to meet you. Go on then, adventurer! Show us what it means to run like a bat out of hell.
Well done! You've managed to escape the tomb and find the treasure. Your skills have proved useful here. Check our collection of online skill games and let's see if you can beat our other games. Enjoy.
Developer
Developed by Gemioli.
Release Date
February, 2016.
Features
Endless fun gameplay
Different characters to buy
Simple controls
Nice graphics
Controls
Up arrow key to jump. Down arrow key to slide. Left to move left and right to move right.