Play Now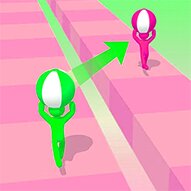 Use an endless source of balls to control doors and slow down your opponent with Tricky Track 3D 2! Get lucky draw tickets every day, double your rewards, and claim your daily gifts! Be the first to reach the finish line, unlock hilarious and cool skins for your ball, and race with style!
Your ball is your weapon and ally on this strange race track. You use it to open and close doors, turn on and off the speed boosters, and manipulate your enemy's race track! The problem is that the enemy also has the same ability, so you must keep your eyes open for the ball coming your way to sabotage your run. Hitting the enemy door button right as they are passing through throws them back and applies a speed penalty. You earn both for victories and failures, but success always pays more. Always remember that your enemy is almost as smart as you, and they can trap you the same way you trap them, so watch out for any last-minute attacks. It might take a few tries, but keep fighting until you get that sweet win! Destroy your foe with quick attacks and a strong defense strategy, and feel the satisfaction of victory!
If you like this challenging skill fight, you can check out our Skill Games category to find more games like this!
Developer
YAD.Com developed Tricky Track 3D 2.
Release Date
June 15, 2022
Features
Colorful 3D graphics
Challenging and addictive gameplay
Daily and random rewards
Unlockable skins
Available on mobile devices
Controls
You can use your mouse to play this game.