Play Now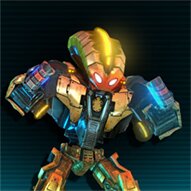 Dive into a realm of dancing and battling robots with Ultimate Robo Duel 3D! Put your steel skin on, follow your career, and join quick matches against a friend or the game itself! Play against a series of difficult enemies, make amazing combos, and enjoy the stunning 3D fighting animations!
Welcome to the new world where boxing left its place to robot duels. You fight to make a living in this world, and as much as it sounds fun, it can get a bit too much sometimes, especially when facing world champions. Luckily, it is not your only option. Here, you can invite a friend to duel with them, keep all the victory to yourself and fight against a bot, or climb up the ladder to a successful career and face challenging enemies. Select 2 Player or Battle options to choose between ten bots with unique styles, and start a quick match. You can always check the controls from the bottom of your screen. Follow the career story, earn from your matches, and unlock new bots to level up your bot fighting game. Slowly climb up to the top, and face the hardest bosses to become the new champion!
If you like ring fights, you can check out Street Mayhem: Beat Em Up and follow the thrilling story of three professional street fighters!
Developer
RHM Interactive developed Ultimate Robo Duel 3D.
Release Date
June 6, 2022
Features
Amazing 3D graphics
10 bot options to unlock
1P and 2P choices
3 game modes
Controls
Player 1 can use "W, A, S, D" to move, "F, G, H, T, C, V" to attack, and "B" to grab, while Player 2 can use the arrow keys to move, "U, I, O, M, J, K" to attack, and "L" to grab.