Play Now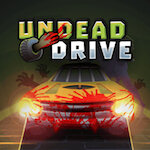 In Undead Drive, the world is under the zombie invasion, and you need to find a way to escape using your dead machine! You and you alone are the last hope for humanity. The great mission of killing the zombies and saving the lives of innocent people is in your hands now. Get in your deadly car and crush the monsters now!
We didn't see the zombie apocalypse coming but here we are, crushing zombies by driving! In this fun car game, your objective is to reach the finishing line by avoiding all the obstacles, killing zombies, and rescue the survivors to pass the levels. It is going to be a hard journey, and you have 12 different destinations to go. Select the first stop from the map and start the adventure. Use your arrows to drive your car on the zombies and kill them without showing any mercy. On your way through the finishing line, you will see the survivors just like you are. Don't forget to take them with you too. Collect as much cash as you can because you are gonna need earnings to upgrade your engine, armor, fuel, and gun stats. You can check your score and collected items at the end of the game. Good luck, play tight, and don't let the dead bite!
If you want to with another great combination of living dead and driving, then you should definitely check Zombie Derby by clicking here.
Developer
Goblet Games developed Undead Drive.
Release Date
June 28, 2017
Features
3D colorful graphics
12 different destinations to go
Upgrading 4 stats
Thrilling car driving adventure
Controls
Use the arrows or WASD keys to move the car.