Play Now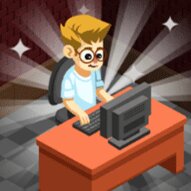 Are you ready to dive into the gaming business with Video Game Tycoon? Start from the bottom, and climb the ladder of success, wealth, and fame! Prepare to watch a one-man company grow into an empire followed by millions of gamers!
It all starts with only one employee and just enough money to publish your first game. You earn a certain amount of money per second for every game you have, and you can update them to raise that income. Of course, the cost increases with each update. Clicking repeatedly or pressing on your character and office objects accelerates the process. Now that you have enough money, you can release even more games, for which you get to choose platforms, names, themes, graphics, categories, and symbols. Every new level comes with two gifts: a random amount of money you get by spinning the wheel of fortune and an object to decorate your office with. In addition to the one you get off the games, you also have a passive income, which works like a bank and fills up while you are offline. It stops when reached an amount, but you can upgrade its capacity. Also, operations like creating a company website or renting an office increase the speed of your passive income. You can always leave the business part aside and dive into your game reviews to rest a little. Rating them is another way of making money. If things seem to get stuck, you can use prestige to restart with huge benefits and grow much faster.
If you would like to play more games like this, you can also check out Shopping Mall Tycoon here!
Developer
Holy Cow Studio developed Video Game Tycoon.
Release Date
January 12, 2022
Features
Colorful 2D graphics
Cute character and environment design
Many options to create unique games
Addictive and fun gameplay
Controls
You can use your mouse to play this game.