Play Now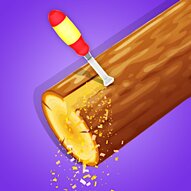 In Woodturning Art, it is time to create your own art pieces with wood! Just use your imagination and create a shape you want! You can find any tools to use! If you feel creative, let's jump into the game now! Have fun!
Do you know that carpentry has a history that is nearly as old as time itself? Yes! Early people produced stone tools to form wood in the Stone Age, which were the first signs of carpentry. And now, we can even create some artworks online thanks to this game! You're going to love this game, which features 3D graphics that will make you feel like you're woodturning in real life. There is no single goal that you should aim for. Simply visualize a shape and go with the flow. The four tools are located on the right side of the game screen. They're all blades, and each one has a unique shape. Drag one of the tools towards the wood with your mouse. You have complete control over the blades, allowing you to cut deeper or lighter. After you've finished shaping, you can move on to the next stage! You can modify the color of your design both inside and out in this part! The "smoothness" and "metallic" settings can be found at the bottom left of the game screen. Try your hand at the most enjoyable woodturning game and get a taste of what it's like to be a carpenter. Have fun!
If you want to try another game similar to Woodturning Art, then be sure to check WorldCraft 2 by clicking here.
Developer
TrendyGames developed Woodturning Art.
Release Date
May 28, 2021
Features
3D colorful graphics
3 stages to complete
Realistic woodturning simulation to enjoy
Fun gameplay with simple controls
Controls
You can use your mouse or finger to play this game.