Play Now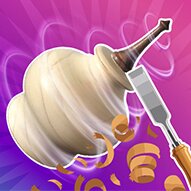 Create imaginary objects and show your creative side with Woodturning Studio. Enjoy the relaxing music and calming sounds wood makes as you sculpt it. Choose the right equipment to give your ideal curves, or stay on the experimental side and try new blades and their effects on your new masterpiece!
You start with five blades ready for use and three more that can be unlocked by watching short ads. The first thing to do would be to decide what to carve. After choosing today's object, you can inspect the knives to see which ones would bring you closer to your daily goal. Pick up the first knife you choose, and touch the wood slightly to see its speed. Now you know the effect your blades have on the wood. Shape it gently and finish the outer lines and do the small details. Moving from right to left gives a smooth shape while doing the opposite leaves serrations on the surface of the wood. After the sculpting process is over, you can move on to the next step and color your artwork. Color the inside and outside of the object in different colors, give it a smooth or metallic shade, and save it as an image!
If you enjoy crafting, you can check out WorldCraft 2 and use nature's instruments to create your world!
Developer
RHM Interactive developed Woodturning Studio.
Release Date
March 9, 2022
Features
Easy to play
3D graphics
8 different blades
Coloring options
Improving imagination
Controls
You can use your mouse to play this game.