Play Now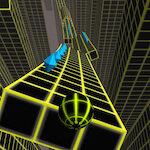 In Crazy Ball Adventures, get ready to take control of a bouncy ball and roll around! Featuring many different and challenging levels filled with various obstacles, being a ball in this game is not very easy. Your bouncy and round nature might make it difficult for you to control your movement, but we're sure you can pass these levels with ease.
The objective of this game is to complete each level by taking your ball from start to finish as you avoid various obstacles and traps along the way. You can use the WASD or the arrow keys to control your ball. To start the game, click on the play button on the main menu. On the next screen, you can choose a level to play. The game features 30 different levels, but only the first one is available in the beginning. You can unlock the rest by completing open levels one by one. When you're in a level, you're on a platform with turns and challenges on it. Move around the obstacles, and be careful not to fall down. If this happens, you'll have to start from the beginning of the level and lose all your progress. Collect the stars on your way to earn extra points. You can track your score from the top left corner of the screen. Blue orbs let you jump higher while red orbs launch you forward.
Looking for more games like this? Then be sure to visit our collection page of online action games. Enjoy!
Developer
Jul Games developed Crazy Ball Adventures.
Release Date
March 4, 2019
Features
Colorful 3D graphics
30 different levels to complete
Intuitive controls
Entertaining gameplay
Controls
You can use the WASD or the arrow keys to control the ball. Press the SPACE BAR to jump.