Play Now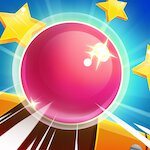 In Slope Ball, get ready for an extreme challenge! Featuring dangerous tracks filled with obstacles and fast-paced gameplay that'll keep you at the edge of your chair, are you prepared to embrace the challenge of this game? If so, you better start rolling, because there are lots of points to earn!
Get ready to take control of a bouncy ball and complete different challenges while trying to stay on the track. This game features 2 different game modes that you can try. The first one is the normal mode. Your objective here is to complete each level by reaching the finish line without falling off of the platforms. You can check your progress from the bar located at the top of the screen. The second mode is the endless one. In this mode, your objective is to travel as far as you can to get a high score. In each of these modes, the track has various obstacles and boosts on it. The green arrows increase your speed, while the red obstacles destroy your ball when you crash into them. You should also be careful about the massive gaps between the tracks and make sure to land safely on the next platform after a big jump. To control the ball, click on the screen and drag your cursor left and right. You can unlock different balls too! Have fun and good luck!
If you're looking for more, then dive into the colorful world of our other challenging and fun game, Music Rush. Enjoy!
Developer
Robert Alsin developed Slope Ball.
Release Date
January 2019
Features
Colorful 3D graphics
Dozens of ball types to unlock
2 different game modes
Intuitive controls
Entertaining and addictive gameplay
Challenging track designs
Controls
You can use your mouse to play this game