Play Now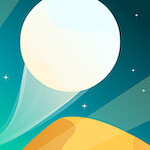 In Dunes, you better get ready to be on the move! In this addictive and wildly entertaining game, take control of a ball and try your best to travel as far as you can, and even reach the stars by building and maintaining momentum. Do you have what it takes to earn a high score and unlock everything in the game?
You can play this game with your mouse so click on the play button on the main screen to start the game. Clicking and holding on the screen will make your ball move when it's on the ground. Release your hold on the left mouse button to make it fly. While it's in air, click on the left mouse button again to make your ball return to the ground. Time your clicks carefully so you can make your ball land smoothly or perfectly on the dunes. Doing so will give you points. Flying above the line in the air and reaching to the clouds also give you good points. Your current score is located at the top of the screen while your high score is in the top right corner. You can unlock various things such as backgrounds and ball types by collecting points or performing a certain number of perfect/smooth landings. Check the in-game shop by clicking on the button in the top left corner. Good luck!
Visit our collection of free and online skill games for more fun! Enjoy playing!
Developer
Vseigru.net developed Dunes.
Release Date
November 14, 2018
Features
Colorful 2D graphics
Intuitive controls
Entertaining and addictive gameplay
Different unlockables
An endless level to play
Controls
You can use your mouse to play this game.