Play Now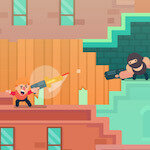 In Agent Gun, get ready to blast your way through enemies. The life of an agent is never easy. There's an enemy waiting for you on every corner of the city, ready to take you down. But we can't allow that, can we? Are you ready to fight your way through the challenging levels of this game?
Bang! Whizz! Zap! Pow! The clash has begun. The enemy has surrounded our agent and he is outnumbered. He needs your help to survive. Your objective is to complete each level by getting rid of your enemies before they get rid of you. You have to get to the top in each level. To do that, you need to start from the bottom. You'll face 8 soldiers who are waiting for you in the shadows. Get ready. Keep your finger on the trigger. And pow! Well done, your first enemy is down. Now, move on to the next one. This game might sound easy but you have to careful. If you miss the shot, your foes will zap you. That means you'll have to start all over again. When you kill your enemies you'll get gold for your services. You can use them to buy hats that will make look cooler or use 10 gold to start over from where you died. So, let's begin and see how well your aim is!
Well done, agent! Your skills know no bounds. One of our characters is fighting to put an end to the living dead. Click here and play Stickman vs Zombies and help our courageous hero
Developer
DAB3 developed this game.
Release Date
June, 2018.
Features
Colorful 2D graphics
Multiple levels to complete
4 different hats to unlock
Fun gameplay
Controls
Use your mouse to shoot.