Play Now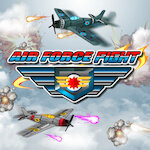 In Air Force Fight, get ready to conquer the skies by defeating all of the enemy aircraft! As the best fighter pilot, you have an important mission in this game. Do you have what it takes to survive the constant attacks of your enemies and live to tell the tale?
This game has 3 different game modes, each with its own rules and objectives. The first one is the campaign mode. This mode has 12 different levels, and your objective is to complete each one by destroying the target number of enemies without dying. The second mode is the Battle vs CPU mode. In addition to solo gameplay, this mode also supports 2 players. You have two options in this mode. You can either pick the deathmatch in which you have to destroy 7 planes to win or the survival option where you have to be the last player standing. The third mode is the Battle vs Player mode. This is similar to the previous mode, but there are no CPU enemies around.
Take part in exciting battles in the other games listed under our collection of free and online action games by clicking here. Have fun playing!
Developer
RHM Interactive developed Air Force Fight.
Release Date
February 18, 2019
Features
Colorful 2D graphics
3 different power-ups that you can collect
4 different weapons to use against your enemies
Intuitive controls
Entertaining and addictive gameplay
3 different game modes to try
2 player gameplay option
Controls
Player 1 can use the WASD keys to move around, and the G key to shoot. Player 2 can use the arrow keys to move around and the L key to shoot.