Play Now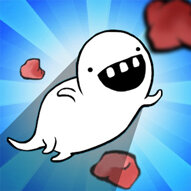 In Lab Escape Online, it's time to take revenge on your enemies. You were living a peaceful life in your planet until that moment when scientists came to capture you. Don't you think you should put an end to their experiments and show them that you are not an easy prey? How long do you think you can survive in this lab?
Get ready for a prison break! These scientists have victimized you for far too long. Now, the time has come for you to stop this madness, pass through the lab and give them a taste of their own medicine. In this game, your objective is to eat your enemies to survive and try to go as far as you can to earn a high score. You need to click on the screen to move and find preys to eat. They are running for their lives, but you are faster than they can ever be. You need to eat them to fill the bar at the top of the screen and regenerate life. If you can't, the game's over! Eating them will also fill the bar beneath the red one and when that bar is full, you'll get to improve your skills. Collecting the coins will help you buy new hats that will help you defeat your foes along the way. How far do you think you can go in this lab?
There are other characters out there who are looking for a partner in crime to face their enemies. Check out our collection of online action games to play them. Enjoy!
Developer
kiz10.com developed Lab Escape Online.
Release Date
February 23, 2021
Features
Entertaining and challenging gameplay
Different upgrades to buy
Nice 2D graphics
Obstacles to avoid
Controls
You can use your mouse to play this game.