Play Now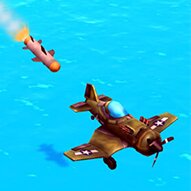 Brace your piloting skills for the sake of survival against bloodthirsty missiles with Airplane Missile Escape! It's just you and the ocean beneath, surrounded by enemy rockets launched at you in the middle of a war zone! Close the speed gap between you and the enemy with tactics and escape strategies by keeping your cool!
Get ready for a fight against your best score while everything around you explodes! Fly above endless waters and dodge missiles that seem to follow you without a break! Pick up money and nitro and health boosts on your way, and get some help from the power of acceleration! Draw circles, change directions at the last second, and catch them by surprise! You can also fool missiles into crashing with each other, which will give you a few seconds to breathe and focus on collecting money and boosts. But do not get too comfortable during these short breaks; they will keep coming at you in no time. Get used to dodging tricks and develop new ones to reach higher scores. Unlock new planes to keep up with the pace of war and take your agility skills to another level. Keep surviving with the help of speed and health boosts to break new records!
If you are into aircraft, you can check out Aircraft Flying Simulator for a realistic flying experience!
Developer
Vitalitygames.com developed Airplane Missile Escape.
Release Date
April 20, 2022
Features
Colorful 3D graphics
Unlockable content
Addictive and fun gameplay
Available on mobile devices
Controls
You can use the arrow keys to play this game.