Play Now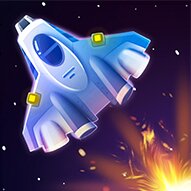 Challenge your survival skills in a space war with Alien World! Face tens of different types of enemy spacecraft and shoot your way through them! Complete ten chapters and a hundred levels of battles to reach the main boss and save the universe from its evil powers!
Join space sailors on a mission to save the universe and face metal centipedes and shapeshifter mines! Follow the story from the first chapter and coordinate your spaceship to destroy the enemy troops and keep your crew alive. Shoot your enemies, dodge their missiles, and blow up meteors to gain some extra gold! You can get to the menu to use your money to unlock new guns and upgrade them, get temporary boosts to start the next game with, buy new skins for your spaceship, and unlock a completely different game mode! This unlockable survival mode is an endless run with enemy ships and meteors raining on you relentlessly. The goal in the survival mode is to keep going for as long as possible and break a new record. Follow the story chapters and break the enemy forces with agility and power, or take a break from your honorable mission and relax with a side quest with an infinite space run!
If you like arcade games, you can check out Galaxy Attack: Alien Shooter and defend your planet from evil aliens!
Developers
Skorit Games developed Alien World.
Release Date
May 4, 2022
Features
Vivid arcade theme
Upgradable features
Nice 2D graphics
2 game modes
100 levels with bosses
Controls
You can use your mouse to play this game.