Galaxy Attack: Alien Shooter
Play Now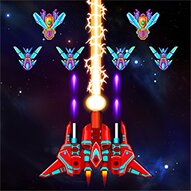 Protect the galaxy from alien invaders with Galaxy Attack: Alien Shooter! Get into a spaceship with incredible attack power, counter enemy missiles, blow up their ships, and collect new attack boosts to overpower swarms of foes! Fly through the space, witness stunning background sceneries, and save your species with many others!
Dive into an arcade world of space-shooter nostalgia! Start from easy levels, pick up boosters, and defy terrifying bosses with special attacks! Dodge deadly missiles enemies throw at you and try to get weapon upgrades in that chaotic environment. Feel your reflexes sharpen with every new level. Blow up meteors raining on you and survive for up to ten rounds without a break to face demon alien bosses that can one-shot you! Getting hit by anything kills you, so the first thing you must focus on is keeping your spacecraft safe and sound. Trying to pick up boosts close to missiles might cost you a whole level, so learn when to give up, and keep your priorities in check. Meet new types of enemies and fight against their moves and attack strategies. Earn and keep points as a total killing score. Reach level 100 to start facing the ultimate bosses and save the universe from these monsters!
If you like this galactic shooting game, you can check out Car Defender and continue your mission on earth!
Developer
Abigames Studio developed Galaxy Attack: Alien Shooter.
Release Date
Mach 28, 2022
Features
Colorful arcade theme
Improving reflexes
Weapon and vehicle boosts
More than a hundred levels
Available on mobile devices
Controls
You can use your mouse to hold and move your spaceship.